---
New recordings of "Shall We Dance…?" now available on iTunes and other platforms. Watch the trailer here.
---
Katrina is teaching a masterclass from 6. -13. August 2017 in Radziejowice, Poland. Further information here.
---
Video of Katrina's transcription of the Waltz from the opera 'Der Rosenkavalier'
Further videos from the opening recital of the international harp competition in Szeged:
'Carnaval de Venise' – Felix Godefroid
Premiere performance of 'Into the Stars' by Michael Kimbell
---
Now available: pdf sheet music – Katrina's transcription for Solo Harp of the Richard Strauss Rosenkavalier Walzer
---
Dec. 10 & 11, 2016 Benjamin Britten Ceremony of Carols with MädchenChor Hannover, Meistersingerhalle, Nürnberg, Germany
Dec. 2 & 3, 2016 Benjamin Britten Ceremony of Carols with MädchenChor Hannover, Marktkirche, Hannover, Germany
---
Nov. 30, 2016 Opening concert at the International Harp Competition, Szeged, Hungary
performing works by Richard Strauss, Michael Kimbell, Joaquin Turina
---
July 16, 2016 Kaisersaal, Ottobeuren, Germany – Duo Concert Violin and Harp "Shall we dance….?" presenting works by Weber, R. Strauss, Liszt, Berlioz, Shostakovitch, Ravel, Ponchielli, Piazzolla
"Gezupfte Geigentöne und samtig weich fließendes Harfen-Legato betörten über alle Maßen. …In Richard Strauß' "Rosenkavalier Walzer" von 1911 hingen die Harfensaiten in höchsten Tonlagen ganz filigran an dünnsten seidenen Faden… Diametral gegensätzlich dazu die Harfe im "Tanz der 7 Schleier" aus Richard Strauß' Oper "Salome"…nährte die Illusion, dass hier ein Pianist mit voller Kraft fortissimo in seine Tastatur hämmert.Sehr verständlich, warum Katrina Szederkenyi auch als Orchester- und Kammermusikerin eine deutschlandweit gefragte Harfenistin ist. …Die klangvolle Symbiose der ungleichen Saiteninstrumente war schlicht und einfach bezaubernd." – Horst Hacker
---
June 17, 2016 OCTANS Ensemble chamber music concert, Abteikirche Duisburg Hamborn, Ravel Introduction and Allegro, Berio 3 Folk Songs
---
Jan. 29, 30, 31, 2016 Brahms Vier Lieder Op. 17 "Es tönt ein voller Harfenklang" with ChorwerkRuhr in Mülheim, Bochum and Dortmund
---
Dec. 24, 2015 Solo recital: Festive concert Mendelssohn House Leipzig
---
November 30, 2015 – Soloist with Montenegro Symphony Orchestra in Podgorica performing Concierto de Aranjuez by Joaquin Rodrigo
---
September 13, 2015 – 'Profile' Chamber music concert with members of the Duisburg Philharmonic
---
Latest review of the CD: "Szederkényi plays his (Parish Alvars) variations on the bel canto melodies with lush tones and impeccable dexterity."
"Szederkényi plays with finely detailed articulation and ravishing tone."
– Maria Nockin July/August Fanfare magazine
---
Katrina is thrilled with her new harp:
Camac 'Oriane'!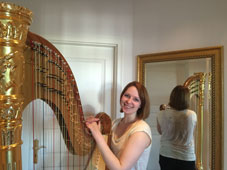 ---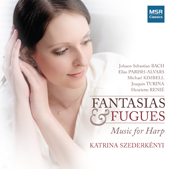 New CD release "Fantasias & Fugues" for solo harp!
Listen to the following samples, first 30 sec. of each piece:
Bach Chromatic Fantasia and Fugue,
Parish-Alvars Grande Fantaisie de bravoure Op. 57,
Kimbell Ballade Arctique – world premiere recording,
Turina Tocata y Fuga
Renié Légende
"A highly recommended recital from harpist Katrina Szederkényi…
(Renié Légende) it is this harpist's ability to draw such descriptive playing by her subtle use of colours, textures and fine little details often delicate, hushed filigree passages with such a sense of drama and mystery.
(Kimbell Ballade Arctique). This is wonderfully descriptive music, brilliantly played.
Katrina Szederkényi is one of the finest harpists I have heard." – Bruce Reader, The Classical Reviewer, October 2014

"(J.S. Bach Chromatic Fantasy and Fugue)….the transparency of sound that Szederkényi's playing brings to the music, particularly the fugal portion, provides genuine insights into Bach's structure…
(The Grande Fantaisie et Variations) gives Szederkényi ample opportunity to display her sheer virtuosity… this is a highly impressive recital by a first-rate harpist who shows herself adept in music from several different time periods." – Mark J. Estren, Infodad, September 2014

"In the (Bach) Fugue, precise articulation of notes for which the harp is also well-equipped, and which Szederkenyi realizes so beautifully, make the subjects stand out in high resolution…" – Phil Muse, Audio Society of Atlanta, August 2014
---
A newly edited version of the transcription for harp solo of the J.S.Bach Chromatic Fantasy and Fugue is now available for download.
Now also available as download the score and parts of the Concerto Op. 98 By E. Parish Alvars with string quartet accompaniment.
---
Jan. 1, 2015 Soloist with Duisburg Philharmonic
Dec. 14, 2014 Duo concert with Nandor Szederkenyi, violin, Schwalmstadt, Germany
Aug. 9, 10, 2014 Performing "Suite Antique" by John Rutter in Oederan and Auerbach, Germany
July 3, 2014 Soloist with the German Film Orchestra Babelsberg at the Classic Open Air, Gendarmenmarkt, Berlin
July 20, 2014 Duo concert with Nandor Szederkényi, violin, Mendelssohn House, Leipzig, Germany
Oct. 17, 2014 Concert of competition prize winners Camac Festival in Perpignan, France
---
Dec. 1, 2013 – Katrina won the first prize at the 3rd International Harp Competition in Szeged, Hungary.
June 2013 – Katrina completed her studies at the Hochschule für Musik, Frankfurt, with the "Konzertexamen Diplom". As part of her recital programmes, Katrina performed a world premiere of Michael Kimbell's Arctic Balllade.
Katrina won the third prize at the St. Petersburg International Goldenharp Competition, September 2011!
Katrina and Nandor Szederkényi performed "Poème" by Michael Kimbell at the World Harp Congress 2011 in Vancouver.
Listen to a studio recording sample of the world premiere of Michael Kimbell's "Poème" for harp and violin, performed June 6, 2009 in Ottobeuren, Germany.
---

…extraordinary harp playing. — Marburg News 12. 01. '11
…eloquent wealth of colour …captivating stylistic and sophisticated virtuosity… — Bergsträßer Anzeiger 17. 01. '11


…impeccable finger dexterity and notable musical sensitivity… — Gießener Allgemeine 18. 01. '11
…exceptionally talented …harp artistry at its highest …commands enormous breadth of interpretation. — Bayerwald Echo 20. 10. '07